Our community Partnerships
The spiritual, moral, social and cultural (SMSC) development of our pupils underpins much of what we do at Coombe Road Primary School.
We are always looking to develop relationships within our local, national and global communities that will help to enhance our pupils' learning experiences. In addition to trips and visits to local places of interest, we have a number of organisations working alongside us to offer our pupils a broad and balanced curriculum.
Opportunities to develop an interest in exploring, improving understanding of and showing respect for different faiths and cultural diversity, and raising aspirations is key to the partnerships we develop.
"It has been delightful to work with Coombe Road's Year 6s and watch them develop over the week. We are very much looking forward to seeing the class again for their fourth stage of IntoUniversity" IntoUniversity, Brighton
"Pupils interact well and are respectful of each other, as well as staff, from both the school and Albion in the Community." Schools Manager, Albion in the Community
Albion in the community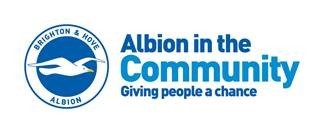 Albion in the Community have worked closely with Coombe Road in delivering:
'Disability Awareness' training, to our staff and pupils,
After-school clubs,
Professional development to staff (to enhance the quality of our PE provision),
High quality sports lessons for all children, including specialist days (e.g. cricket),
A maths programme (Numeracy Cup) at the Amex Stadium,
A literacy programmer (Literacy Cup) at the Amex Stadium.
Albion in the Community are a proud delivery partner of the Premier League Primary Stars programme, designed to use the appeal of the Premier League and professional football clubs to inspire children to learn, be active and develop important life skills as well as:
Improve children's physical literacy
Improve teachers' confidence in delivering PE
Increase children's confidence in English activities
Improve children's communication skills and resilience.
Increase teachers' confidence in teaching PE
INTO University

Into University is an educational organisation which aims to raise young people's aspirations by offering innovative programmes in an environment where pupils are inspired to achieve and fulfil their potential.
Every year, Into University Brighton have the pleasure of delivering a FOCUS Week programme with our Year 6 children. Throughout the week, the children are provided with a powerful experience of university-style learning focusing on their current area in the curriculum (usually The Great War). The week always ends with a full-day visit to Sussex University where the class meet with undergraduates to celebrate their hard work with a formal 'graduation' ceremony.
Into University also work with our Year 4 and Year 5 children, to raise their aspirations and broaden their horizons.
As well as the FOCUS Week programme, Into University also offer primary school students aged seven and above extra support with their maths and literacy in a fun learning environment.
(This takes place on Tuesdays and Wednesdays from 15:30 – 17:00 at our centre at St Andrew's Church and it is completely free of charge.)
If you are interested in signing your child up for Academic Support, please call 01273 602102 for further information.
Rocksteady music
By breaking down the traditional barriers and costs of traditional musical tuition, Rocksteady make music more accessible to more pupils. Rehearsing by listening, copying and playing together, they experience the benefits of group learning in every sense.
Music can put other achievements on a different scale too. The teamwork, listening and social skills required to master songs significantly increases memory, numeracy and confidence. In a recent study, 93 Rocksteady learners showed an average 11% improvement in academic grades, against previous benchmarking.
Children are drawn to music by the likes of Beyonce, Sam Smith, and Katy Perry - not crochets, minims and quavers. That's where their inspirational band leaders come in, teaching our children to sing and play songs they want to perform. So persuasion is not needed, just enthusiasm harnessed in the right direction.
Our pupils learn through playing modern songs together in a band, by listening, copying and playing. By removing the barriers of traditional music education: sight reading, scale exercises and formal exams, music becomes accessible to more children.