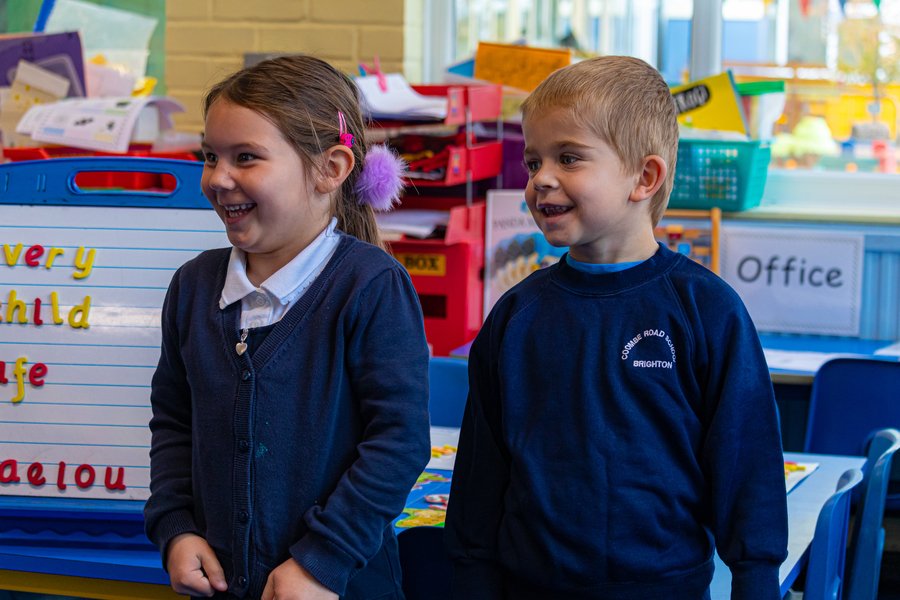 STARTING AT COOMBE ROAD
Starting a new school can be daunting, whatever age you are. We have included some information here to help you find the answers to any questions you may have and an ABC Booklet about starting school can be downloaded below.
Please call us or pop in to speak to one of us if you need anything: 01273 077130.
THE HOME-SCHOOL AGREEMENT
At Coombe Road Primary School we encourage our children to become willing, independent learners through a trusting partnership between the staff, the parents and the wider community. Everybody has the right to expect a welcoming, responsive and well resourced school which is a pleasure to visit and work in. To achieve this it is essential to have the co-operation of everyone concerned.
The school will:
Support children to learn within a broad and balanced curriculum.

Encourage children to do their best at all times by promoting good relationships and a love for learning.

Not tolerate bullying or harassment of any kind.

Keep parents and carers informed about school activities.

Inform parents and carers about their child's progress.

Be welcoming and encourage parents and carers to become involved in their child's learning and the school community.

Listen to any concerns and suggestions.

Contact you if there is a problem with your child's attendance or punctuality.

Let you know if we have any concerns in school that is affecting your child's learning.
Parents and carers will:
Arrive on time everyday.

Contact the school as early as possible on the first day of absence if their child will not be attending for any reason.

Tell the school about anything that might affect their child's learning or behaviour.

Uphold the school values.

Talk to the headteacher about any concerns and not publicly on social network sites.

Support the school's e-safety policy and not deliberately upload or add images, video, sounds or text that could upset or offend anyone.

Help with home learning and in finding opportunities for learning at home.

Attend parents' evenings.

Ensure appropriate clothing and appropriate PE kit is worn.
Children will:
Arrive at school in good time and not take unnecessary days off.

Bring everything they need every day, particularly reading books.

Do as well as they can in all their learning.

Wear school uniform and and PE kit.

Show respect for other people, their property and the school environment.

Tell a grown up if anyone makes them feel sad or frightened.

Uphold the school values.
WE WILL ALL WORK TOGETHER IN A PARTNERSHIP OF MUTUAL TRUST AND SUPPORT.