Skylarks Nursery: Helping your fledglings to spread their wings and fly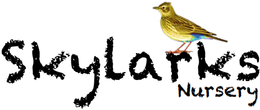 Skylarks operates independently from Coombe Road Primary School but uses our grounds. You can find out more about them by contacting the nursery director, Heather Johns, at:
heather@skylarksnursery.com
07542094192
What the nursery is about
Your child will receive great nursery care, in an inspiring environment supported by amazing teachers. We will go that extra mile to put our arms around your whole family as we help them make the transition from home life to the exciting challenges of school.